Organic Airbrush Tanning
The Hottest Organic Airbrush Tanning Studio in Virginia
Our mission is to provide clients with a professional, customized experience that produces the most beautifully flawless, healthy-looking bronze glow they have ever had.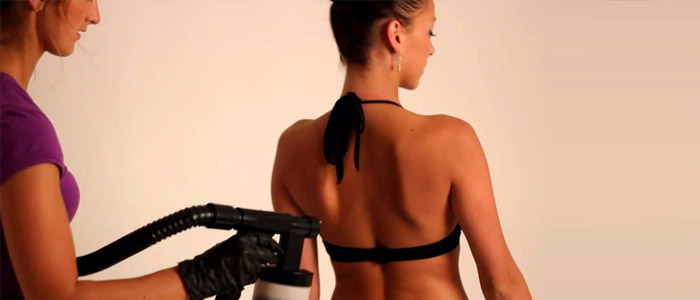 About Airbrush Tanning
Come to Organic Airbrush Tanning in Herndon- VA and Dulles - VA, if you want a safe and effective way to maintain your healthy glow.
Sunless airbrush tanning application is safe, effective and takes as little as 10 minutes from start to finish. Our all-natural solutions are Eco-Certified.
No more self-applied orange, streaky self-tanners
No UV damage
Quick, flawless and very natural looking


Now you can enjoy a beautiful tan without all of the risks!
Our friendly airbrush tanning technicians will guide you through the whole process and provide additional after-care tips to help you maintain your tan.
How Airbrush Tanning Works
After entering the tanning room your spray technician will discuss color preference with you and answer any remaining questions you might have. Then, you will disrobe to your comfort level and then enter the overspray booth to begin your custom airbrush tanning session, applied by one of our trained Airbrush Spray Technicians.
Our technician will discuss with you just how light or dark a tan is desired, and will develop a customized tanning solution for you. The solution is then attached to a compressed-air driven applicator, and the tanning session begins.
The solution is evenly applied over all parts of the body, and our technicians expert application training ensures that your tan will develop evenly and beautifully.
The technician will ask you to change positions and to hold your arms and legs in specific poses, so as to ease the even application of the spray. As opposed to a machine-applied spray, the technician changes her own spray position to ensure even application.
You have the option to receive a full-body tan or just an upper-body tan. You may also choose whether or not you want your face sprayed.
After the tanning application is complete (which usually takes between 10-20 minutes, depending on the client), the newly applied spray is given a few minutes to dry to the skin. Once the spray is dry, it will continue to set over the next 8-10 hours, leaving a beautiful bronze glow. The technician will provide instructions on aftercare to ensure your tan looks great!
Preparation before Tanning Session
The night before your Tan
Shower thoroughly and exfoliate with non-oil based, this will remove dead skin, and provide a smooth surface for your tan to ensure even coverage and lengthen the duration of your tan.
Any manicure or pedicure should be done at least one day before the day of your tan.
If you are using Dove products please stop using them at least two days before your tan and for the duration of the tan (5-7 days). Dove soap and Dove lotions leave a film on your skin that leads to a blotchy tan.
Shaving and waxing should be done at least 24-48 hours before your session.Shaving or waxing too close to your session can result in the spotty look.
Moisturize after your shower, but not the day of your tan. Remember, clean skin!

The day of your Tan

Bring in dark loose fitting clothing and flip flops. Tight fitting clothing worn on a fresh tan can rub the solution off and leave your tan patchy.
Please come in without make up or deodorant, if you come in with makeup you must use a makeup remover cloth to clean your face, and an EXMITT (Can be purchased at the studio) to full cleanse your skin if you are wearing lotion or deodorant.
Review and Sign the Release Form (available at the studio when you sign in).
We have found that the following products will lighten or make an airbrush tan spotty:
Dove soap and Dove products
Hair thinning lotion or removing lotion
Anti-aging products or AHAs
Beta Hydroxy Acids-salicylic acid
Retin-A type products (Retin-A, Renova, Tazorac, Tretinoin)
Toners containing alcohols or witch hazel
Anti-acne products(Accutane, salicylic acid)
Facial masks and scrubs
Pore cleansing facial strips
Wax depilatories
Depilatory products
Bleach products for body hair
Hot tubs, chlorine and salt water
Bug sprays-try to spray your clothes instead of you. If you must have it on you, spray a cloud to go through.
Aftercare Tanning Session
Do not shower or sweat excessively for the next 7-8 hours (Over night if possible) after your tan. This allows your tan to fully develop its color.
If you do not shower until the next morning, please make sure to wear loose fitting, full length pjs to bed.
Do not shave for the first 12 hours after your spray and first shower, if you MUST please use a fresh razor.
Use hand sanitizer to wash your hands during developing time.
Avoid using moisturizers and applying deodorant during developing time.
Wearing socks or closed shoes can cause your tan to develop unevenly on your feet, please avoid wearing either for at least the first 5 hours of your tan.
Avoid wearing tight clothing for at least the first 5 hours of your tan, tight clothing could render your tan splotchy.



Remember: When you take a shower or a bath you will probably see some color wash off. Do not worry. This is quite normal as it is only the color guide that the spray tan technician uses when the tan is applied. You will be left with a gorgeous tan.
Maintaining the Tan
It is recommended you follow these general guidelines to maintain your tan:
Avoid long/hot baths and showers, hot temperatures open your pores and will release the tan more quickly.
Avoid swimming pools, hot tubs and seawater these can reduce your tan.
We recommend using our Vanilla-Lavender Tan Extending Moisturizer, unlike other lotions this is specifically designed to extend the longevity of your tan and ensure even fading at the end of your tan.
Try to use a fresh razor every time you shave during your tan.
Pat your skin dry after every shower
Moisturize twice a day.
---
Retail Skincare
Deep Clean Exfoliant
Returns your skin to its most natural state and ensures your tan sets perfectly Many exfoliants include oils and moisturizers that can stop your spray tan from setting properly (causingyour tan to fade fast and uneven). With Organic Labs Deep Clean, all skin types are gently cleansed of anydead, dry skin cells, leaving your skin free from anything that could harm your tan, and can actuallyincrease the length of your tan by up to three days!
Shower Glow DHA-Infused body wash
The DHA in the body wash gently tans your skin in the same way as a spray tan Organic Labs Shower Glow foaming body wash has DHA actually blended into it. This means that even while you are scrubbing dirt off your body, you are also strengthening your tan! Best of all, Shower Glowis natural, plant-derived, doesn't dry out your skin, and ensures you'll be fresh, clean, and tan all day.
Skin Glow Light Tan Extender
Use the Tan Extender to stop trouble spots from appearingCosmopolitan Magazine said, "This Tan Extender is amazing," and we couldn't agree more! Use it onthose trouble spots (mine are my elbows) to keep an even tan lasting longer. Skin Glow has beenformulated by our in-house biochemist to boost the life of your tan and keep it looking natural, even,and beautiful. What's not to love?
Velvet Soft Moisturizing Creme
Use an oil-free moisturizer to improve the life of your tanmost moisturizers are great for your skin-and terrible for your tan. They have ingredients that can quickly degrade a spray tan so that it fades in a matter of days. Amazingly, we've created a moisturizer.