Eyebrow Threading
Eyebrow threading is an ancient method of hair removal which has been practiced in Asia for centuries, although it is also widely practiced in the Middle East. Eyebrow Threading is a hair removal technique that uses 100% cotton thread. Eyebrow threading can groom and shape your eyebrows as an alternative to plucking or waxing.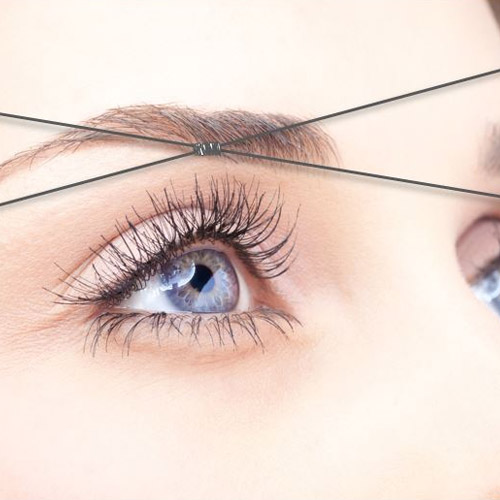 Because it removes hair by the follicle, it is a reasonably long lasting hair removal technique as well. Eyebrow threading sounds very painful, but is about the same as brow waxing and is not hard on your skin. The cotton thread is twisted and rolled along the surface of the skin entwining the hairs in the thread which are then lifted quickly from the follicle. The hair removal technique is not just for the eyebrows: threading can be used to remove other facial hair as well. For women who would like to pursue a more natural beauty regimen, eyebrow threading is a good choice, since it does not use any chemical product.
Looking for natural and beneficial technique for hair removal?? Here comes the band aid for your theme. New Look Medi Spa is having expertise people dealing with this technique.
The art of threading may be seen in the gentle and precise twisting of a length of cotton thread which is twisted along the hair which are to be removed , it pulls the hair out from the root, does not peel off a skin layer, unlike waxing. The twisting action of the thread traps the hair and lifts it out of the follicle.
Benefits Of Facial Threading Vs Facial Waxing
More effective and less painful than tweezing.
Does not peel off a layer of skin.
Hair re-growth becomes finer and sparser after regular treatments.
Hair do not grow back as fast.
Skin does not get as red and irritated.
Highly recommended and an excellent option for those who use Retin-A, Accutane and similar products.
Can pull out specific individual hair.
Hair does not need to be long, but just above the skin.
Will not produce more hair or make hair stronger.
Will pick up the finest hair from the surface leaving skin smooth.
Threading can be done for Eye brows, Upper Lip, Chin, Side Burns, Neck or the entire face.
Threading can do the following areas:
Eyebrows, Upper Lip, Lower Lip, Chin, Cheeks, Fore Head, Neck, Side Burns, Full Face and Full Face with Neck.
New Look Medi Spa & Threading is the Best Place for Eyebrow Threading and Eyebrow Waxing in Dulles, Herndon Chantilly, Springfield and Northern Virginia.
New Look Medi Spa & Threading is located in Dulles VA, Herndon VA, Chantilly VA and Springfield VA Which is only few miles from Reston Virginia, Sterling Virginia, McLean Virginia, Chantilly Virginia, Fairfax Virginia, South Riding Virginia, Arlington Virginia, Alexandria Virginia, Manassas Virginia, Leesburg Virginia and Springfield Virginia.