Less Fat. Tighter Skin. The Same You.
Achieve your body goals with Cryoskin 3.0! With the latest in advanced technology from Paris, Cryoskin 3.0 offers the most advanced non-invasive treatment solutions for slimming, toning and skin-tightening.
Effective. Painless. Convenient. REAL RESULTS.
CRYOSKIN SLIMMING
Cryoskin is a new fat loss device from Paris. People may lose from 0.5 to 1.5 inches in 1 treatment. When you put water in the freezer you know when it comes out as ice it's bigger? This is because water expands when it's cooled.Fat cells happen to be more sensitive to changes in temperature than other cells in your body so, when you cool them, the water in them expands, breaking the cell. These cells then pass out of the lymphatic system. The best results occur around 5 sessions - average fat loss was 38% with a sample of 100 people. We measure the area you would like treated before and after the first session so you can see the immediate impact.It also can help clear up cellulite. This works by cooling the subcutaneous areas of the legs which creates vasodilation or expansion of the blood vessels. This brings in more collagen which helps break down the fibers which create the dimpling. It also has a facial treatment, which is more natural than Botox and can be as effective. It also creates vasodilation but this time, in the face, which brings in collagen and breaks down fine lines and wrinkles. Cryoskin cannot be used if you've had Botox or fillers in the last 3 months.
Areas that can benefit from Cryoskin 3.0:
Stomach: Reduces fat cells from the stomach area
Back: Stubborn spots and love handles
Arms: Tones the arms
Thighs: Helps in removing cellulite and lifting skin
Face: Reducing the number of wrinkles and signs of aging
The results from Cryoskin 3.0:
Increase metabolism
Weight loss
Slowing down the aging process
Collagen production
Cellulite reduction
Slimming Before + After Care
• For best results following a cryo session, do not eat sugar 2 hours before and after the session.
• If possible, avoid all kind of sugar for 4 - 5 hours before and after the cryo session. 2 hours is the recommended time for best results.
• This applies to all kind of sugars (pasta, rice, bread, cereals...) and of course simple starches and sugars.
• The cold weakens and retracts the adipocyte [fat storage cell]. Consuming sugar will return immediate energy to these cells, so the apoptosis [cell death] effect will be less efficient and can even be canceled.
• The lymphatic system takes 15 days to complete an entire cycle. Results will improve over the 2 weeks following the session. Additional slimming sessions can be completed 2 weeks after a treatment.
• Avoid exercise directly before a session. It will be harder to cool the body down and complete the slimming effectively.
• For best results, maintain the best possible diet and lifestyle to accompany the treatment (drink plenty of water).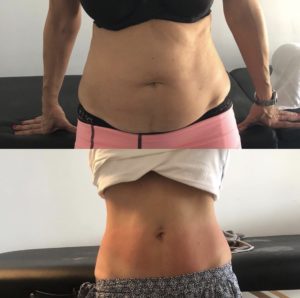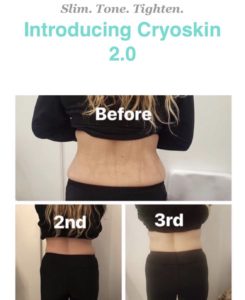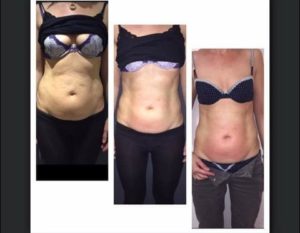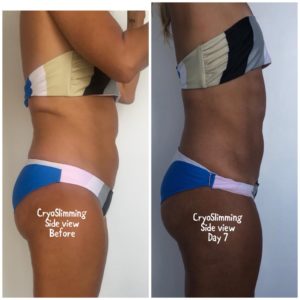 CRYOSKIN TONING.
If you're looking to remove cellulite or slow down the aging process this is the treatment for you. This 20 minute cold therapy treatment will help improve your microcirculation and speed up your metabolism, which results in higher collagen production.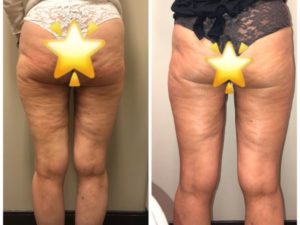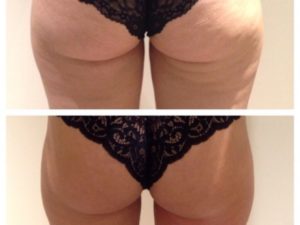 CRYOSKIN FACIAL.
Non-surgical facelift! Results seen immediately after one session. Check out the results to the right. Dramatic results that last weeks! We can't stop the aging process, but the Cryoskin 3.0 facial helps to stimulate major collagen production, lifts the face, and visibly reduces wrinkles.